November 8, 2013
Film Review Link: Thor: The Dark World
Poor Thor (Chris Hemsworth) has a problem.
August 15, 2013
Film Review: Kick-Ass 2
Dir. Jeff Wadlow
Score: 6.2

From a studio perspective, the glimmering beauty of adapting Mark Millar and John Romita Jr.'s first Kick-Ass graphic novel was the fact that it was essentially a turn-key operation. So cinematically minded was their work, so plot-twisting was their story, one only needed to plug in the right actors and get a director who understood the strange brew of comedy, drama and hyper-violence to produce a minor hit.

Only, there's another thread at play in the Kick-Ass saga that must have given these same enterprising studios a certain pause. Part of Millar's twisted-up re-imagining of the super-hero universe, populated entirely by normal, non-powered crime fighters, was his refutation of that very concept in the form of Hit-Girl, a foul-mouthed 10-year-old supreme assassin, trained by her father in the ways of torture, mutilation and mayhem, who almost instantly stole the series right from under the titular character's masked nose. It was precisely that kind of unexpected perversity — along with Romita Jr.'s blood-and-guts drenched panels — that powered the series into its cult status amongst fanboys.

Even tacked with an 'R' rating, the first film drew howls of protest from a swarm of critics — including Roger Ebert — who found the gratuitous violence and impossibly bad language from the mouths of babes too much to bear, but even so, the final film was a good deal mollified from its even-more-over-the-top source material.

For this sequel, the producers had a different problem to address. In the comics, Hit-Girl remains in that sixth-grade realm, for this film, Chloë Grace Moretz, who plays her, had quite noticeably aged into solid teen-hood by the time of filming. How do you keep Millar's deliciously demented vision of the character, even as she's growing right before our eyes?

Cleverly enough, writer/director Jeff Wadlow has taken this obstacle and turned it very much to his advantage. After all, what begets hyper-violence more than a surge of hormones? As the film opens, Hit-Girl is in the process of training Kick-Ass (Aaron Taylor-Johnson) in the ways of becoming a real fighter. She beats him up repeatedly, shoots him in his Kevlar-covered chest with a .45 and sends him off on a brutal mission involving him donning pimp-fur and strutting around a rough neighborhood. That is, before her guardian (Morris Chestnut) finds out about her ditching school and makes her promise to go straight, leaving the purple tights and stiletto knives behind in favor of living like a normal, angst-ridden teen girl.

Meanwhile, their arch-nemesis, Chris D'Amico (Christopher Mintz-Plasse, and what is it with everyone in this young cast utilizing triple names?), the former Red Mist, has decided his true course of action should be to become the world's first super villain, and dubs himself "The Motherf——-r," assembling a team of evil muscle to do his bidding, including the former KGB she-hulk, Mother Russia (Olga Kurkulina), who proves equal amounts savage and formidable. Kick-Ass, meanwhile, lonely without his supremely talented young partner, latches on to a new group of fellow powerless heroes, lead by a former Mafia member turned righteous born again champion, Stars & Stripes (Jim Carrey), who dub themselves "Justice Forever." Eventually, the evil the Motherf——-r concocts with his cohorts begins to hit entirely too close to home for both Kick-Ass and Hit-Girl, and they have to strike back or risk losing everything that matters to them.

It is a strange and difficult recipe to get exactly right: enough loose comedy to be amusing, alongside enough stringent violence to placate a pack of rabid wolverines, all consecrated with a series of blood-spattered Important Life Lessons for our teen heroes to learn for themselves along the way. The books, being comics strictly for mature readers, get to run their perverse joy without having to break stride; the films, clearly attempting to appeal to a somewhat broader audience, have to curb some of Millar's more brutal flights of fancy (excised, for example, is the Motherf——-r's gunning down of a group of completely innocent schoolchildren; gone, too, is his rape of Kick-Ass's love interest; both of which, it must be said, were not sorely missed) while not fully alienating the considerable fanbase the comics have engendered.

It says here that Wadlow, a young director with a promising future, gets it about right. If the film lacks some of the daring verve of the comics, it also dispenses with some of Millar's more sadistic elements without entirely losing the anarchic fun of the series. He also adds a few original flourishes of his own, including a scrawny out-of-the-closet superhero who goes maskless (and nameless, as far as I could tell) but brandishes a pair of effective tazer rods; and a weapon Hit-Girl deploys to dispatch some bullies in her high school that leads to the film's most puerile and sophomoric visual gag.

Even if you get past the high levels of violence, the film has its drawbacks. For one thing, I'm not sure that Moretz, for all her professional craft and accomplished facial scrunchings, was ever quite right for the character (her line readings still suggest Hit-Girl's filthy epithets don't easily come out of her mouth), but she seems a bit more comfortable within the teen confines of her character this time around, and the newly buffed up Taylor-Johnson and reedy Mintz-Plasse, a whiny comic foil par excellence, spin happily through their paces. When it does falter, its almost always because Wadlow keeps attempting to inject earned wisdom into his characters ("You don't have to be a bad-ass to be a superhero," Hit-Girl tells Kick-Ass. "You just have to be brave.").

Despite his occasional bouts of earnestness the film remains supremely bloody fun that will doubtlessly re-ignite the violence debate all over again — though I doubt as many people will object to teen ultra-violence as they did the elementary school variety. No one is saying it's a film that should appeal to everyone, and for that, we should all be eternally thankful. To hell with the focus groups, for once, and rejoice in the carnage.
August 2, 2013
Film Review Link: 2 Guns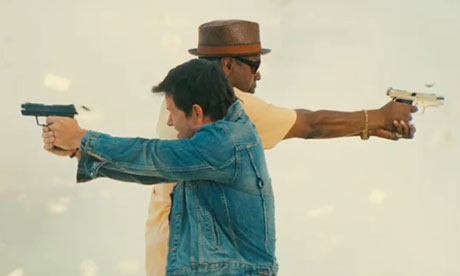 A swaggering buddy pic that mostly hits its target with a storm of high caliber slugs. 
August 2, 2013
Film Review: 2 Guns
Dir. Baltasar Kormákur
Score: 5.8

The end of the summer is nigh; and, correspondingly, the levels of cinematic cynicism are on the steady rise, both from the studios producing the big summer films at such a prodigious clip, and the audience — whose big action anticipation might have been easily satisfied in May with Iron Man 3 and Fast and Furious 6, but has since gotten dulled over and burned out from the endless churn of similarly overblown features each subsequent weekend — who are forking over their hard-earned money in order to see them. Under those circumstances, then, maybe its understandable that a studio would release a bantering buddy action picture in which every government policing agency, from the DEA to the CIA to military intelligence, is shown to be completely corrupt and in league with the Mexican drug cartels.

First and foremost, however, this ethical darkness is framed within the friendly confines of the winsomely irreverent relationship between the film's two big-name stars: Denzel Washington and Mark Wahlberg. There's no shame in making fun, action-oriented popcorn flicks, of course, but, in this case, the script's character outlines — one, a smooth, personable DEA agent on the lam; the other, a cocky smartmouth who never misses what he aims for — fit their respective roles perhaps a little too smartly around the hips.

Washington plays Bobby "Beans," an undercover DEA agent, reluctantly working alongside a rambunctious, hotshot mercenary played by Wahlberg, in order to set up an evil Mexican cartel magnate named Papi Greco (Edward James Olmos). Unbeknownst to Bobby, Stig is actually also working undercover, for Naval intelligence, and is under orders from a corrupt commander (James Marsden) to rob a Texas bank of Papi's illegal earnings and set up Bobby for the eventual fall. By the time both men realize their true situation, it's already gotten out of hand. The money they thought they were robbing turns out to be many millions more of a corrupt CIA stash, skimmed off the top of the cartels as a measure of doing business in our country. With agents from all these agencies fiercely bearing down on them — and an vicious CIA commander known as Earl (Bill Paxton, sporting a cheesy mustache and a Hitler haircut) closely on their trail — Bobby and Stig have to tie up all the loose ends and get out with their skins.

Naturally, there's also a gorgeous DEA agent (Paula Patton), whom appears to be in love with Bobby but might also be double-crossing him. She gets nabbed by Papi to ensure the return of his money, giving ample opportunities for both men to shoot first and ask irreverent questions before, during, and after the crackling bursts of gunfire.

To be sure, Icelandic director Baltasar Kormákur is aiming for a light, breezy shoot 'em up with heroes that never break their swag, even when one of them is forced into playing Russian roulette with a gun pointed directly at his crotch. The fun in these sorts of movies isn't the peril the heroes are placed in — which, we know full well, won't come to much — but the never-ending stream of cracking wise they do en route to their eventual triumph.

The film certainly gives every attempt to hit its marks — in the climactic scene alone there are blazing cars, streaking helicopters, charging bulls, exploding money and a proper Mexican stand-off — but, there's also a bit of a mean streak to all the banter and fun. Screenwriter Blake Masters (a fake-sounding action hero name if ever there were one) wants to have his action-comedy cake and eat it too, with scenes of torture, murder and degradation that seem less convivial than unnecessarily bloody and sadistic. It's as if the film is aiming for a rough-and-ready Tarantino vibe but keeps hitting Oliver Stone instead.

Masters doesn't entirely miss his target, however. There's a cheery machismo at work, between Stig's intentional provocation of the drug cartel thugs, and Bobby's aforementioned calm under duress. The film scores most of its points with its snappy dialogue repasts, even if many of the actual action scenes are less than scintillating. The ridiculous ending — one in which everybody meets at once to fire torrents of high-caliber bullets at one another while millions of singed dollars float in the air around them like some sort of frenzied capitalist fever dream — pours on the body count but doesn't produce much in the way of pulse-pounding.

As you might imagine, much is banked upon the charisma of the two leads, and in this regard, it does not disappoint. The roles might be ones they could do in their sleep, but both actors share good chemistry with one another, even if conceptually, the film doesn't give them terribly much to work with. Over the years, Wahlberg has found a niche playing these sorts of ensemble roles with fellow heavyweights, which tend to play well with his exceptional comic timing and hulking-yet-sincere screen presence. He doesn't exactly play against type, but he raises the level of comic possibility in a way that is disarmingly effective. Washington, meanwhile, here sporting sunglasses, a chin beard, and a series of fetching fedoras that make him look like a wedding band alto-sax player, can do smooth and charming without breaking a sweat like few others in the biz.

Even if neither lead actor is doing much to stretch the limits of their prodigious talents, you don't get the sense they're sleepwalking through the film in order to cash their hefty residuals checks. Washington and Wahlberg seem to be in on the fun, such as it is, without getting the least bit bogged down by the film's murky politics and overpowering cynicism. In the end, of course, things turn out just fine for the duo, it's the rest of the nation that we should apparently be worried about.


July 26, 2013
Film Review Link: The Wolverine

Hugh Jackman snikts the claws for the sixth time in this James Mangold-helmed action thriller, but the thrill is rapidly starting to fade. 
July 12, 2013
Film Review Link: Pacific Rim

High above the shattered streets of Hong Kong, a giant, reptilian monster does vicious battle with an equally massive robot, helmed by two human beings situated in the head of the machine.
July 8, 2013
Film Review Link: The Lone Ranger

You can certainly see what Disney's thinking was on this thing: Hell, if the combination of director Gore Verbinski, producer Jerry Bruckheimer and star Johnny Depp some how conjured up a raging financial success out of a trilogy of movies about a bloody amusement park ride, imagine what they could do with a pre-existing franchise of well-known and beloved characters from the Wild West.
May 25, 2013
Film Review Link: Fast & Furious 6
Like a shaky sitcom still trying to find its footing, the first few Fast flicks, starting in 2001, hadn't yet settled on a winning formula.
May 17, 2013
Film Review: Star Trek Into Darkness
Dir. J.J. Abrams
Score: 5.5

J.J. Abrams is a man who clearly understands the important beats and movements of a well-timed action flick, the ways to set up his audience for the big finish in order to leave them breathless, but he's not so good with the subtleties. He's all quick pans, dizzying camera work and 21st Century hyper-edits, all of which succeeds in inducing a head rush, so much so that its only after the movie ends and the lights come back on that you realize how inane and overstimulating the whole thing was.

With his second Star Trek installment, Abrams has more or less kept us where we left off last time. James Kirk (Chris Pine) is still irresponsibly bedding down comely alien women and making absolute hash of the Star Fleet regulations he's supposed to commit to heart; Spock (Zachary Quinto) is still discovering the painful emotional experiences of his human half in a tumultuous relationship with this new-jack Lt. Uhura (Zoe Saldana); Dr. McCoy (Karl Urban) still gets to complain about everything; and the Enterprise and the rest of her steady crew are all finding out just how much damn fun it is following a captain who refuses to follow the rules when they don't suit him.

Shortly after we begin, however, things take a turn for the worse. Kirk, due to an absolute whopper of a disregard for the Prime Directive (take no action that interferes with a planet's development), loses his command of the Enterprise right around the same time Star Fleet is struck from within and a huge secret command center is reduced to rubble. No sooner does the high command convene an emergency meeting than they are all attacked by a rogue Captain (Benedict Cumberbatch), who seems to harbor a great deal of animosity towards Star Fleet for reasons yet unknown.

The Captain then flees to Cronos, the home planet of the Klingons, which, he assumes Star Fleet would never try to infiltrate for fear of starting a war. Naturally, this kind of mission is all Kirk needs in order to re-establish his command, a move blessed by Admiral Marcus (Peter Weller), an old-school warhorse commander who might be hiding a thing or two in his motivations.

Along the way, old-school "Star Trek" fans are given innumerable shout-outs, from the appearance of a tribble to famous lines — "The needs of the many outweigh the needs of the few" (Dr. McCoy's infamous "I'm a doctor, not a…" construction also gets trotted out) — even a throwback cameo from an old friend, all of which is throwing raw steaks to the lions, as it were.

All of which is made necessary by a plot that strains even the lowered standards of Big Action Flick fare. The film's midpoint twist shocks you into submission at first, but an even remotely longer glance confirms that it makes almost no damn sense. It's a re-hash of a re-hash of an episode from the TV show's original first season, which might initially enlist gasps but quickly becomes almost comically ridiculous upon any sort of reflection.

The rabid fans of "Star Trek" are legion and legendary, back in the TV show's initial mid-'60s run, they were the first fanbase to galvanize and successfully petition a TV network to bring back and otherwise absolutely doomed show (though, as the end result was the seriously misbegotten third and final season, "success" is somewhat qualified), and they have been supporting creator Gene Roddenberry's vision more or less ever since, through various TV spinoffs, an animated series and innumerable feature films — most of which, pretty terrible. When TV demigod J.J. Abrams was brought in to reboot the original show, it was with the implicit idea that he would attempt to bring the original flavor of the TV show, while greatly enhancing its breadth, and re-populating the cast with hot, young actor facsimiles.

Most problematic of the first Abrams' film was Chris Pine's Kirk. For all his showy, pot-bellied bluster in later years (that pesky third season was when things started to go downhill for William Shatner), the first two seasons of Shatner's captain were stalwart. Kirk was a man driven by his responsibilities, sometimes overwhelmed by them, but never less than gallant and respectful. Pine's young Kirk was none of those things, a wise-cracking, sleazy lothario who abused authority and refused to keep anything in his pants.

In the new installment, most of the actors have benefitted from the previous experience. The whole ensemble feels more comfortable in their roles, more connected to each other, yet Pine is still playing Kirk as a particularly shameless frat boy, bedding down twin alien women and disregarding the squares in the Star Fleet hierarchy as he sees fit.

Fortunately, Abrams downplays Kirk's involvement in the film's thrill-rush climax, giving Spock the lion's share of the most pivotal action scenes. By the end, it would appear as if Kirk has finally learned a thing or two about commanding a starship (his earlier boast to a higher-up that he's "never lost" a crewmember despite his freelancing, shall we say, goes by the wayside), so we can only hope by the next inevitable sequel we get less of this preening, petulant captain and more of a true and reasoned leader of men.
May 3, 2013
Film Review Link: Iron Man 3
The third installment of armor-plated franchise finds Tony Stark slightly bowed but hardly broken. 
April 19, 2013
Film Review Link: Oblivion
At this point, Tom Cruise has appeared in so many sci-fi movies in his career, it's starting to feel as if he really is from the future. An impending time where honorable, hard-fighting men get spunky haircuts and spend the vast majority of their time in extreme close-up, grappling with futuristic gizmos and laser blasters and driving expensive looking multiwheeled vehicles.
March 1, 2013
Film Review Link: Phantom
A submarine-gone-wrong flick whose minuscule budget hogties what might have been a hell of a story. 
March 1, 2013
Film Review Link: Jack the Giant Slayer
Bryan Singer's latest action thriller actually proves itself somewhat capable of action — and thrills. 
February 15, 2013
Film Review Link: A Good Day to Die Hard

John McClane doesn't die hard anymore; he simply doesn't die, period. 
February 1, 2013
Film Review Link: Bullet to the Head

Wherein I run down a weak-kneed action "thriller" and give it a thorough spanking.